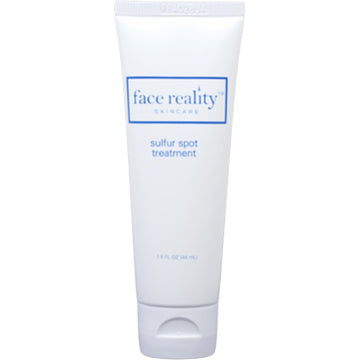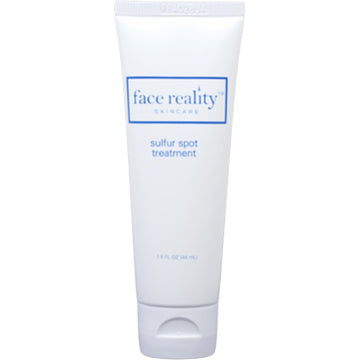 Click Here For Authorization
Why do I need Authorization?
Before purchasing specific Face Reality products containing ingredients which are considered "Active", we require an acne consultation with one of our providers and an account through our online store. This acne consultation typically takes place via email correspondence and is used to educate customers on the best home-care for their skin. Once an acne consultation has been completed and a proper home care regimen determined, access to the active products may be approved. To request to be contacted by one of our skin care providers for an acne consultation, please complete the form below. If you have already received authorization and believe you are seeing this message in error, please contact us via email at
support@dermspastore.com
.
Request Authorization
Already Authorized? Log in to purchase
Description
Sulfur Spot Treatment is a gentle yet potent combination of 6% sulfur and an innovative peptide that provides an instant fix for red and inflamed acne lesions. Unlike other spot treatments, our Sulfur Spot Treatment is effective without harsh ingredients, strong odor, and calms and soothes irritated skin. Not only will you see an immediate decrease in redness, this spot treatment won't leave behind any pesky dry patches and will accelerate the skin's healing process.
Disclaimer: This product is intended to treat current inflamed acne lesions and does not prevent acne from forming. This product should not be used by anyone that is allergic to sulfur.
Key ingredients
6% Sulfur: anti-inflammatory, antibacterial, and keratolytic (removes and prohibits the production of excess skin)
Neutrazen™: a peptide that reduces the appearance of inflammation, calms and soothes irritated skin
The best I've ever tried!!
This product deserves a review. I've tried it all for my sensitive, hormonal, and stubborn acne. I'm in my mid 30s. This product is the best I've ever tried. Clears up my hormonal acne so fast and doesn't leave those annoying dry patches. Purchased in June of 2020 and I still have product left. I use every time I start to feel a breakout coming on and continue till they are gone. Best spot treatment, hands down.